ABOUT US
Dear Customer,
GD 12 firm has got a long lasting experience thanks to our specialists, who have been dealing with designing and upgrading the exhaust systems for cars and delivery vans

We have been selling exhaust systems and silencers successfully around Europe for 4 years.

The names of firms which we run are Echappement24 and Exhaustsystems24.
The silencers we sell have got many quality certificates and they meet all most strict norms
By the end of 2011 , 123.428 customers from Europe and Africa have trusted us.
In January 2011 we have decided to start selling in the UK, hoping that perfect quality and affordable price of our exhaust systems will find many purchasers and the number of our satisfied customers will grow up.
GD 12 company currently offers exhaust systems produced by Ferroz as well as mounting parts manufactured by Fischer Automotive.

Ferroz and Fischer Automotive are well-known worldwide producers of high-quality exhaust systems and mounting parts. Newest technology and durable materials are used in production process, wchich influences the products' quality. Numerous references and certificates are the quality proofs. Among them there are ISO 9001:2000, TÜV certificate and EU certificate.
Welcome to cooperate with us.
Ferroz

Fischer Automotive One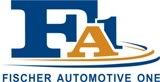 PRACTICAL INFORMATION
Resistance of the exhaust system depends not only on the high quality of the product, but also on the durability of the mounting parts, engine as well as suspension. Driving style, proportion between car's age and distance covered is also taken into account (the more short distances with a cold engine, the lower is the quality of fuel and exhaust system.

Exhaust system mounted without applying thermoset pastes and new mounting parts may cause a leak. Moreover, exhaust fumes may get inside the car causing discomfort when driving (headaches), faster fatigue of the driver or even loss of consciousness which can lead to an accident.

GD 12 company recommends elements built of materials that meet all the EU standards.

Wrong choice of the silencer or any other element of exhaust system (that is not recommended by the manufacturer for a given car) may cause negative effects of using it, like for example decreased combustion efficiency, decreased engine power or even engine seizing.

FERROZ exhaust systems meet all recommendations and specifications of car manufacturers.

When mounting rear silencer it is recommended to check if the middle silencer is not damaged, too. Corroded elements may blow out of it, damaging the new rear silencer.
Mounting
It is strongly recommended that the new exhaust system should be mounted by a qualified mechanic. If the provided warranty is not stamped by the professional car garage, or there is a note that the customer mounted the exhaust system himself, any claims will not be handled. The quality of the whole exhaust system is based not only upon the quality of its given elements (which depends on the manufacturer), but also upon the correct mounting of all the elements (which depends on the person that mounts them).

Practical tips cencerning exhaust system mounting:

-the mounted exhaust system should not be stretched or tightened

-a special aerosol that is resistant to high temperature should be applied on the screws

-high-quality gaskets should be placed on every join

-rubber hangers should be replaced when mounting new silencer (even if they seem to be not damaged yet)

-every hook should be additionally protected by a cotter, so that the hanger couldn't fall down

-clamp should be mounted to the chassis at first, after that, silencer

-when linking two pipes together thermoset paste should be applied on the outer side of the smaller pipe, so that it is pushed outside the silencer, not inside

-schackles should be mounted in the middle of the join of two pipes. They should never be the lowest parts of the whole exhaust system.
Dismantling
The exhaust system should be dismantled by a qualified mechanic.

Exhaust system should be dismantled starting from the rear side of the car.

Every time while dismantling, it should be checked if the hooks or catches are intact.

It often happens that some elements ,that were chosen incorrectly, are mounted by force which causes the damage of the hooks or catches.

If such a problem occurs the owner of the car should be informed about that immediately.

In such a situation, there may be a need to bend the hooks or other parts again, so that the new exhaust system (which is chosen correctly) can be mounted without any problems.

It is not recommended to interfere in the elements of the suspension, therefore new silencers should be chosen correctly and be suitable for a particular type of the car.
Promotions
Contact & Customer Service
Need an assistance?

Email us and we'll answer
within 15 minutes.